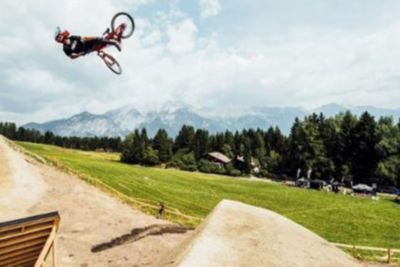 6/28/17
BRETT RHEEDER'S 2ND PLACE RUN - CRANKWORX INNSBRUCK 2017
Fox Freestyle team rider Brett Rheeder had another sterling performance in the Redbull Joyride Slopestyle competition at last weekend's Crankworx stop in Innsbruck, Austria. Following up on his amazing victory the week before in Les Gets, Brett faced his stiffest competition of the season so far from the best riders in the world, and he needed an amazing run to solidify the second spot on the podium. As usual, his run featured an incredible array of tricks including 720 bar spins, a double bar 360 off the massive step-down and he gave it all he had on his final trick - a flip double whip which pushed his total score to an amazing 95.66. A final score which easily sealed his silver position on the podium. Coming off an injury in 2016 his season got off to a late start – not what he had been hoping and training for all winter. But he is hitting his stride at the perfect moment and will be hard to beat heading into the final stop of the Crankworx series in August at beautiful Whistler, British Columbia.CW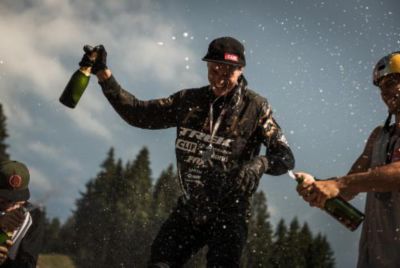 6/21/17
BRETT RHEEDER'S 1ST PLACE RUN | CRANKWORX LES GETS 2017
CRANKWORX-LES GETS WAS EPIC!
The whole MTB industry spent the week in Les Gets for the 2nd stop of the Crankworx World Tour 2017. Luckily, this year the sun was beating down on Les Gets the entire week and all our riders enjoyed the opportunity to ride and compete in the awesome conditions!
BRETT RHEEDER WON THE SLOPESTYLE
Brett laid down a solid first run, which was good enough to take the lead. Nobody managed to best his score with their second runs, so Brett got to cruise down for a victory lap! After wining Rotorua (2015), Les 2 Alpes (2015) and Whistler (2016), the Canadian won yet another Slopestye here in France and was pretty damn stoked: "I just came back after an injury so I feel really relieved to win today. It has been hard work to get back! We had some good practice sessions with all the guys, but it was tough here today with the wind. For sure before my first run I was a bit nervous, I didn't want to screw up, and then sitting up top watching all the guys doing their second runs was hard!"
2ND PLACE FOR LORIS VERGIER AT THE CRANKWORX DOWNHILL
"It is so good to be on a podium again! To be honest, I didn't expect it because my wrist was a bit painful before the start! Because of that, I didn't start my run full gas, and tried to finish a bit faster and it went well for me, I'm proud! Now I take some days off to go surfing with my girlfriend and it will be sweet!" - Loris Vergier
FINN ILES WON IN JUNIOR
After his victory in Leogang World Cup last week, Finn Iles continues to dominate the Junior Category: "I felt I rode well, smooth and consistent so I'm happy with my run and my time. Last year I felt very good on this track, and the whole of this week I was having a lot of fun so I wasn't super focused on the race until day race. I think it's good to do a race like that every now and again, because this week was a bit like a holiday and I just rode my bike as fast as could and it worked well!"
JOSH BRYCELAND 3RD IN THE AIR DH
Air DH in Les Gets is a bit different to A-Line in Whistler, with roots, jumps and steep techy sections and ex World Cup Champion Josh Bryceland demonstrated he still has the speed to compete! Josh ended up in 3rd place and showed that when you have talent running through your veins, you don't have to take racing super seriously to get on the box every now and again! It was so rad to see the Rat back on a podium!