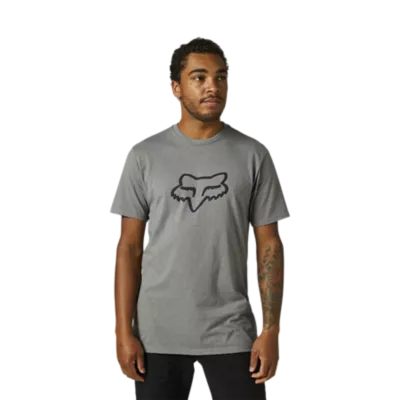 T-SHIRT LEGACY FOX HEAD PREMIUM
Artikelnummer
28990-185-S
Prijs verlaagd van

€ 29,99

naar
€ 17,99
40% Off
Kleur —
Heide Grafietgrijs
Thank you, we will email you when the item is in stock.
KLASSIEK, ZACHT EN COMFORTABEL T-SHIRT VOOR ELKE DAG
De Legacy Fox Head Premium is legendarisch in zijn eenvoud, met zijn vossenkop van Fox, en is een zacht en comfortabel T-shirt waarin je gewoon wilt blijven rondlopen. Met zijn betrouwbare pasvorm en stijl wordt dit beslist een topper voor elke fan van Fox.
Herenmodel T-shirt met ronde hals
Behoudt ook na vele wasbeurten zijn vorm en structuur
Nauwsluitend model
Ultrazachte stof
Voelt licht aan (155 g/m²)
Geweldige pasvorm
Gezeefdrukt artwork
Lengte (van bovenkant schouder tot zoom): 76 cm (maat Large)
MATERIAAL
Gekamde en ringgesponnen jersey met Biancalani 30/1 zijnaad 100% katoen, 155 g/m²
On Model
Our model Sami is 6'2" and wearing a size large in Black White and Heather Graphite.
Our model Chris is 6'3" and wearing a size large in Black and Flame Red.
Our model Morgan is 6'4" and wearing a size large in Royal Blue.