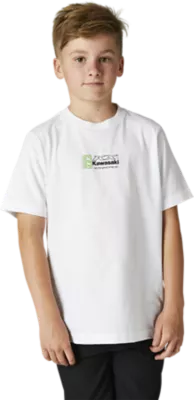 Tiener-T-Shirt Kawasaki — Kinderen
Artikelnummer
29176-190-YM
Prijs verlaagd van

€ 24,99

naar
€ 13,74
45% Off
Thank you, we will email you when the item is in stock.
OERSTERK T-SHIRT VOOR FANS VAN KAWA
Jonge Kawasakifans zullen blij zijn met dit tiener-T-shirt van Kawa, net zo blij als wij met onze samenwerking met dit legendarische crossmerk. Met zijn middelzware materiaal dat zacht en comfortabel zit, is dit er een waar ze in blijven rondlopen.
Kindermaat T-shirt
Middelzware gekamde fijne jersey
Zeefdruk
MATERIAAL
Gekamde en ringgesponnen jersey 100% katoen met Biancalani 30/1 zijnaad, 155 g/m²
On Model
Our model Kieren is 4'5" and wearing a size medium in Black and Optic White.